Philipp A. Rauschnabel | XR Researcher – Metaverse Visionär – Speaker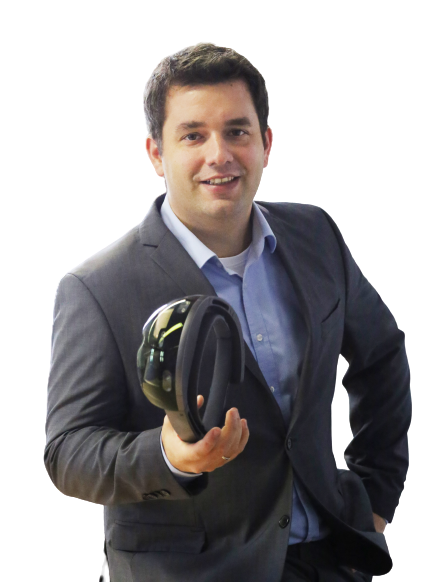 My name is Philipp Rauschnabel and I am a professor of digital marketing and media innovation at the University of the Bundeswehr Munich. With my team, I develop scientifically sound practical and socially relevant answers around new reality formats: Augmented Reality, Virtual Reality and Metaverse.
Our research is both theoretical and application-oriented. We cooperate in research and teaching with companies and associations, present results at conferences, publish them in peer-reviewed journals, and discuss developments in the media. In doing so, we make use of established theories and the latest standards of quantitative and qualitative research.
Main Academic Positions
2018-… Professor of Digital Marketing und Media innovation, Universität der Bundeswehr München
2014-2017: Assistant Professor, University of Michigan-Dearborn (USA); youngest faculty member (tenure track with renewal)
2010-2014: Research Associate / PhD candidate & post doc researcher (part time)
Vising positions: JTUT Changzhou, University of Michigan-Dearborn, Montpellier Business School
Services

Since 2022: Associate Editor, Journal of Business Research
Since 2021: Academic Advisor, XR Bavaria e.V.
Since 2021: President, bdvb research institute; since 2019: member of the board
Since 2018: Auslandsbeauftragter der Fakultät für Betriebswirtschaft
Privatdozent, Universität Bamberg
Member of the Editorial Board, Journal of Business Research, International Journal of Human-Computer Interaction, Journal of Marketing Education
2017-2020: Editor in Chief, international Journal of Technology Marketing
Ad hoc reviewer: Information & Management, Psychology & Marketing, European Journal of Marketing, Journal of Interactive Marketing, Journal of Communication, Computers in Human Behavior, Technological Forecasting & Social Change, etc.

Industry Experience
Worked in market research, management consulting, etc.
Project employee at an institute, (co-)responsible for image studies, segmentation, customer value (industries: telecommunication, education, food retail); (incl. project team lead)
Since 2010 also freelance consultant, coach and speaker (projects on digitalization, social media, segmentation, personas, brand image, satisfaction analyses, etc. for companies (SMEs and corporations, industries: Food, Home Appliances, Insurance, Automotive, Telecommunications), NGOs and municipalities; projects in Germany, USA, Switzerland, China, Austria.
Since 2018: associated consultant for various management consultancies (active there in various projects).
Media
My research is featured by leading media, sich as newspapers (e.g., Handelsblatt, Welt, Süddeutsche Zeitung, Heilbronner Stimme), TV (ZDF, ZDF Stream, BR, Sat1), Radio (Bayern 1, SWR3, Deutschlandfunk) and Podcasts (u.a. Mixcast).

Academic Degrees
Post doctoral degree (Habilitation, Dr. habil; PD), Otto-Friedrich-Universität Bamberg, Germany
PhD; Dr. rer. pol. ("The Psychology of Brands", kumulativ, summa cum laude), Otto-Friedrich-Universität Bamberg, Germany
M.Sc. in Marketing und Distributionsmanagement, Georg-August-Universität Göttingen, Germany (best graduate)
BA in Business (Marketing and MIS), Merseburg University, Germany (Top 10% graduate)

Personal
Borin in 1984
Married und Kinder
Hobbies: Mountains, Vinyl, Technologý, BBQ/Slow Cooking